All saddles made at Horseshoe Saddlery are hand made by the exacting
standard of a true artisan. These saddles are made to order, custom
designed to your specifications. Truly, a functional piece of art with
comfort and beauty in mind.
Whether working cattle, competing for that ribbon, trail riding or just
having fun with your equine friend, Horseshoe Saddlery can craft the
perfect saddle for you.
~ ABOUT CUSTOM BUILT SADDLES ~
~ Base price $3,600. $1,200 down and the rest is due by the time I get the saddle built. ~
~ Base Price Includes; ~

~ Wood/rawhide tree, custom fit to horse and rider (using the Dennis Lane saddle fitting cards) ~
~ USA Tanned Wickett and Craig Leather ~
~ Your choice solid brass or stainless steel hardware ~
~ Horn wrap if you want ~
~ 3/4″ bark tanned wool shearing ~
~ Your choice old timey or standard fenders ~
~ Heavy cast aluminum stirrups, or wooden stirrups ~
~ Single front rigging, standard style rigging or in skirt rigging. Double rigging and back cinch add $300 ~
~ Pencil roll cantle binding ~
~ 6 or 8 latigo saddle strings with leather conchos or stainless steel JW conchos ~
~ Near side latigo and off side latigo or billet ~
~ Breast collar dees ~
~ Add-ons; ~

~ Tooling: contact me for quote $ ~
~Double rigging, back billets & back cinch $300 ~
~ Cheyenne roll $125 ~
~ Inlaid or overlaid padded seat $200 ~
~ Antiquing Finish $200 ~

~ Buckrolls $120 ~
~ Breast collars start at $200 ~
~ Upgraded Conchos at cost ~
~ Upgraded stirrups at cost ~
Quality, handmade, custom gear takes time to make.

It takes 2 to 7 months to get the tree and depending on the complexity and amount of tooling, a saddle can take me anywhere from 1 to 4 months, after I get the tree.
~ Contact me with any questions you have or to order your saddle. ~
Click here to learn about the Dennis Lane Saddle fitting cards.
~ Wood, rawhide, covered tree. Built by Sonny Felkins of Quality MFG ~
~ Modified Association fork ~
~ Border Stamped & Floral tooled ~
~ Red inlaid padded seat ~
~Background dyed & Antiqued finish~
~Tooled Cheyenne Roll ~
~ 6 strings with Jon Mincer white bronzes conchos  ~~ Leather horn binging ~
~ Rope strap with Jon Mincer white bronzes buckle ~
~ Latigo horn wrap ~
~ 7/8 in-skirt stainless steel rigging ~
~ Nettles wood, bound with stainless steel stirrups~  ~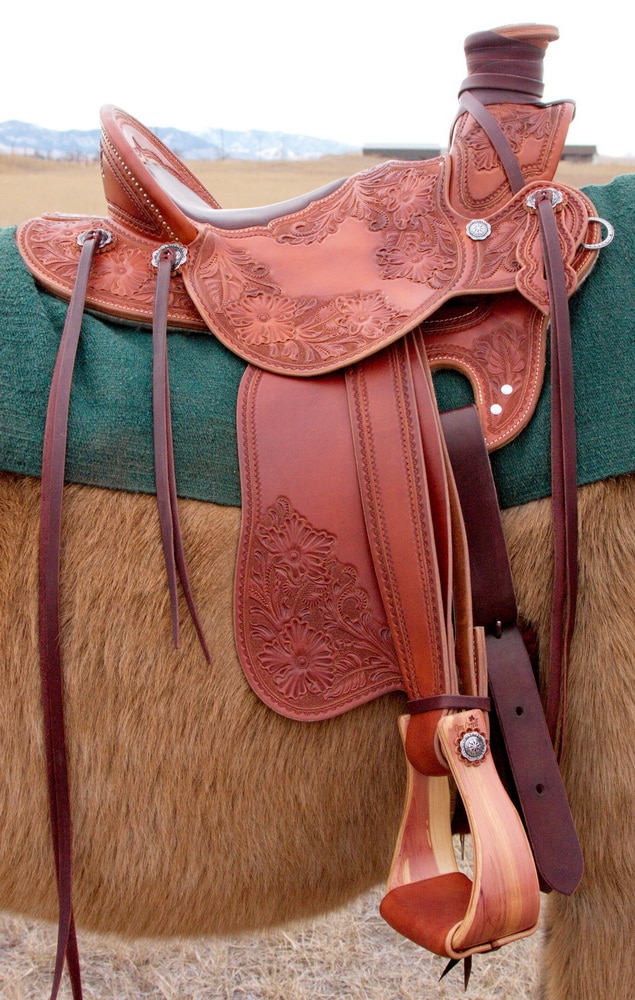 ~ Wood, rawhide, covered tree. Built by Sonny Felkins of Quality MFG ~
~ Old Time Visalia fork ~
~ Floral tooled ~
~ Dark brown inlaid padded seat ~
~ 6 strings with J.W. stainless steel conchos with accent & rope strap ~
~ Old timey fenders ~
~ 3/4″ wool lined small round skirts ~
~ Latigo horn wrap ~
~ Weighs 29bls. ~
~ 3/4 in-skirt rigging & breast collar dees ~
~ Don Orrell custom stirrups 3.5″ angled offset red cedar  ~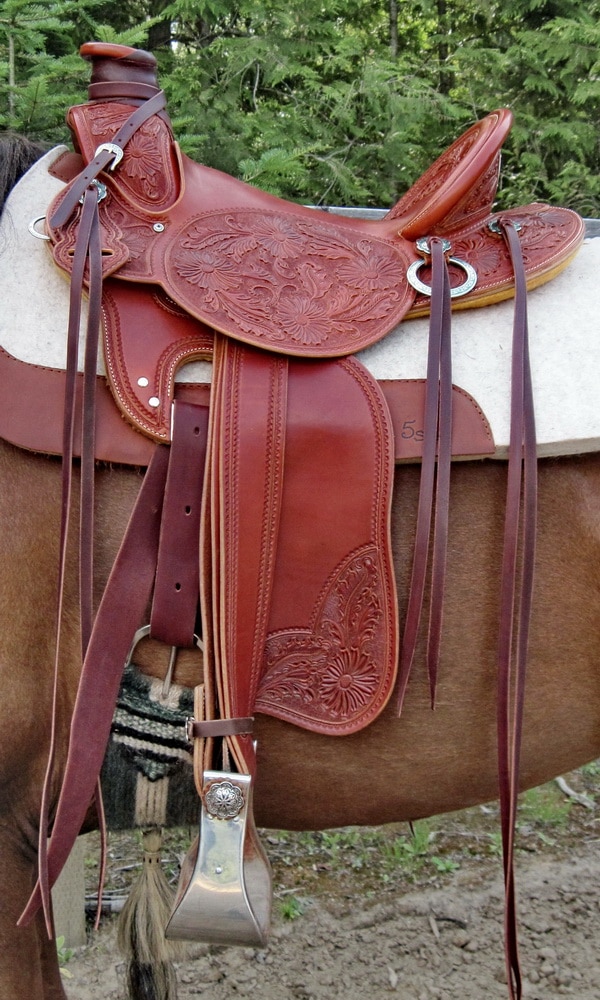 ~ Wood, rawhide, covered tree. Built by Sonny Felkins of Quality MFG ~
~ 3-B Visalia Fork ~
~ Floral tooled ~
~ 6 strings with J.W. stainless steel conchos with green accent & rope strap ~
~ Old timey fenders ~
~ 3/4″ wool lined small round skirts ~
~ Latigo horn wrap ~
~Leather horn binding ~
~ 5/8 in-skirt rigging & breast collar dees ~
~ Nettles wood, bound with stainless steel stirrups ~
~ Wood, rawhide, covered tree. Built by Sonny Felkins of Quality MFG ~
~ 3-B Visalia Fork ~
~ Full geometric box stamping with border stamping & floral tooling accent ~
~ 8 strings with tooled rosettes & old-timey rope straps ~
~ Old timey fenders ~
~ 3/4″ wool lined square skirts ~
~ Mule-hide horn wrap ~
~ Rawhide horn & cantle binding ~
~ 7/8 double flat-plate rigging & breast collar dees ~
~ 24″ full tooled tapaderos ~
~ Matching martingale breast collar ~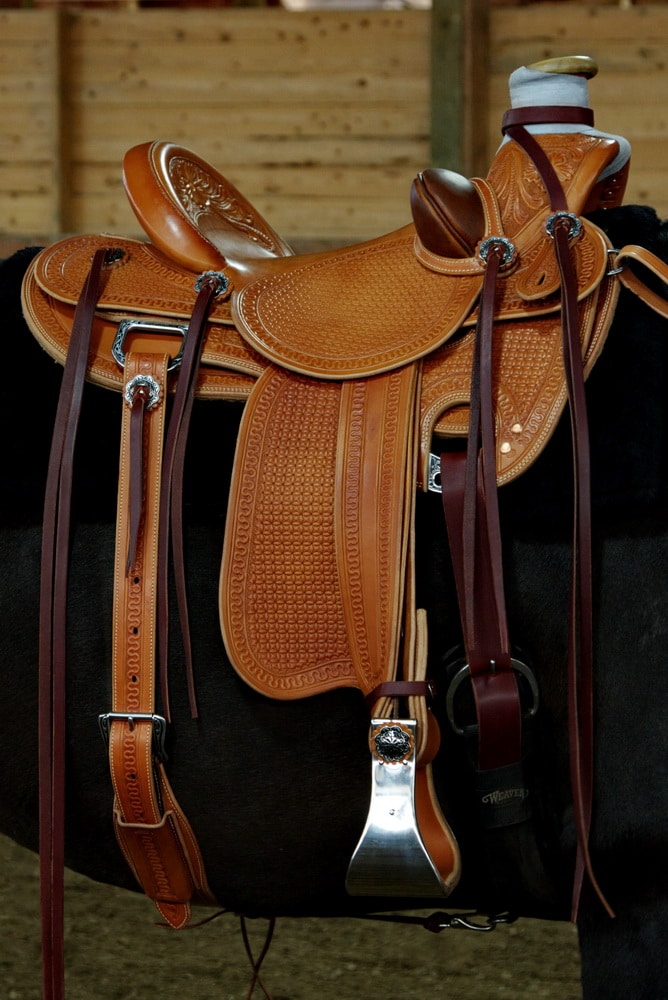 ~ Wood, rawhide, covered tree. Built by Sonny Felkins of Quality MFG ~
~ 3-B Visalia Fork ~
~ Full geometric box stamping with border stamping & floral tooling accent ~
~ 8 strings with J.W. stainless steel conchos with black accent & rope strap ~
~ Old timey fenders ~
~ 3/4″ wool lined round skirts ~
~ Mule-hide horn wrap ~
~ Rawhide horn binding ~
~ Cheyenne roll~
~ 7/8 double flat-plate rigging & breast collar dees ~
~ Nettles wood, bound with stainless steel stirrups ~
~ Matching martingale breast collar with custom brand ~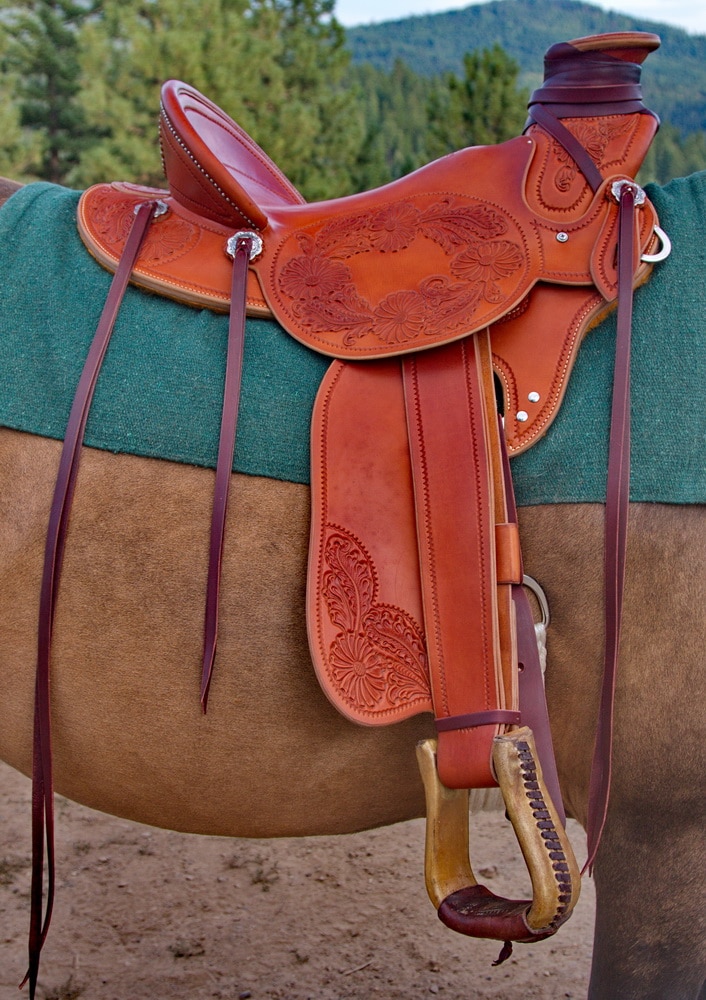 ~ Wood, rawhide, covered tree. Built by Ben Swanky of Billings MT ~
~ Wade Fork ~
~ Weighs 28lbs. ~
~ Floral tooled ~
~ 6 strings with J.W. stainless steel conchos & rope strap ~
~ Old timey fenders ~
~ 3/4″ wool lined small round skirts ~
~ Latigo horn wrap ~
~ 5/8 in-skirt rigging & breast collar dees ~
~ Rawhide covered stirrups ~
~ LADY'S ASTRIDE SADDLE ~
~ Wood, rawhide, covered tree. Built by Sonny Felkins of Quality MFG ~
~ Old Time Visalia fork ~
~ Border stamping ~
~ Blue stingray inlaid padded seat ~
~ Weighs 28lbs. ~
~ 6 strings with J.W. stainless steel conchos with blue accent and clip & Dee-ring ~
~ 2″ exposed stirrup leathers ~
~ 3/4″ wool lined small round skirts ~
~ Matching martingale breast collar with blue stingray heart ~
~ 3/4 in-skirt rigging & breast collar dees ~
~ Nettles wood stirrups ~
~ Wood, rawhide, covered tree. Built by Sonny Felkins of Quality MFG ~
~ 58 wade Fork ~
~ Full geometric diamond stamping with floral accent ~
~ 6 strings with tooled rosettes & rope strap ~
~ Old timey fenders ~
~ 3/4″ wool lined square skirts ~
~ Mule-hide horn wrap ~
~ Cheyenne roll ~
~ 7/8 double flat-plate rigging & breast collar dees ~
~ Aluminum stirrups ~
~ Wood, rawhide, covered tree. Built by Ben Swanky of Billings MT ~
~ Wade Fork ~
~ Weighs 28lbs. ~
~ Floral tooling with a serpentine border ~
~ 6 strings with J.W. stainless steel conchos with turquoise accent & rope strap ~
~ 2″ exposed stirrup leathers ~
~ Turquoise inlaid padded seat ~
~ 3/4″ wool lined small round skirts ~
~ Turquoise horn wrap ~
~ 3/4 in-skirt rigging & breast collar dees ~
~ Nettles wood stirrups ~
~ SUNDAY-GO-TO-ROPING-SADDLE ~
~ Wood, rawhide, covered tree. Built by Sonny Felkins of Quality MFG ~
~ Olin Young Fork ~
~ Full basket stamping with floral tooling accent ~
~ 6 silver conchos with horsehair tassels and clip & Dee-rings ~
~ 3/4″ wool lined rounded square corned skirts ~
~ Cheyenne roll with stainless steal lace ~
~ Full double standard rigging & breast collar D-rings ~
~ Leather braid accents on stirrups, swells, & rear billets ~
~ Decorative tacks on horn & gullet ~
~ Leather wrapped stirrups with leather braid & horsehair tassel ~
~ THE-HEAVENLY-ROPING SADDLE ~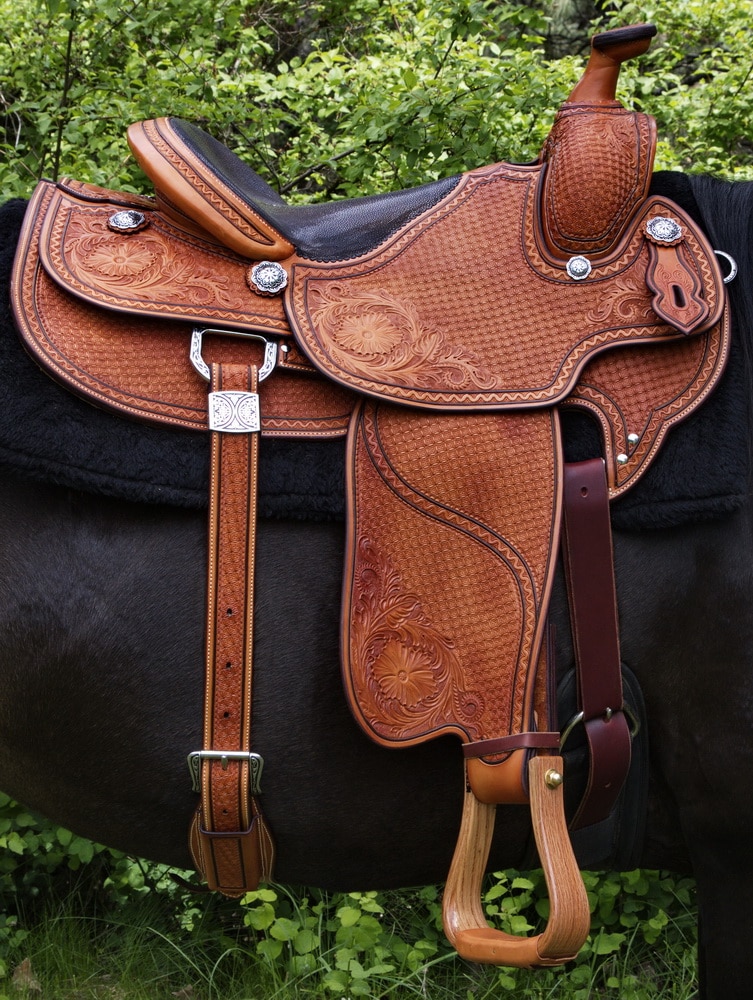 ~ Wood, rawhide, covered tree. Built by Sonny Felkins of Quality MFG ~
~ S.F. Bowman Fork ~
~ Full geometric box stamping with serpentine border stamping & floral tooling accent ~
~ 6 J.W. stainless steel conchos with dark brown accent ~
~ Stingray overlaid padded seat ~
~ 3/4″ wool lined rounded square corned skirts ~
~ Cheyenne roll with tooling ~
~ 7/8 In-skirt front with back cinch & breast collar D-rings ~
~ Nettles wood stirrups ~
~ Wood, rawhide, covered tree. Built by Sonny Felkins of Quality MFG ~
~ Old Time Visalia fork ~
~ Border stamp with dream-catcher with feathers ~
~Dark brown inlaid padded seat & matching horn wrap ~
~ Weighs 28lbs. ~
~ 6 strings with J.W. stainless steel conchos with black accent ~
~ 3/4″ wool lined small round skirts ~
~ 3/4 in-skirt rigging & breast collar dees ~
~ Don Orrell custom stirrups red cedar ~
~ CORNER STAMPED WADE SADDLE ~
~ Wood, rawhide, covered tree. Built by Sonny Felkins of Quality MFG ~
~ 3-B Visalia Fork ~
~ Border stamping with corner stamping ~
~ 8 strings with tooled rosettes ~
~ Bucking rolls ~
~ 3/4″ wool lined round skirts ~
~ Mule-hide horn wrap ~
~ Decorative tacks on cantle binding ~
~ 7/8 double flat-plate rigging & breast collar dees ~
~ Matching stirrups ~
~ BORDER STAMPED WADE SADDLE ~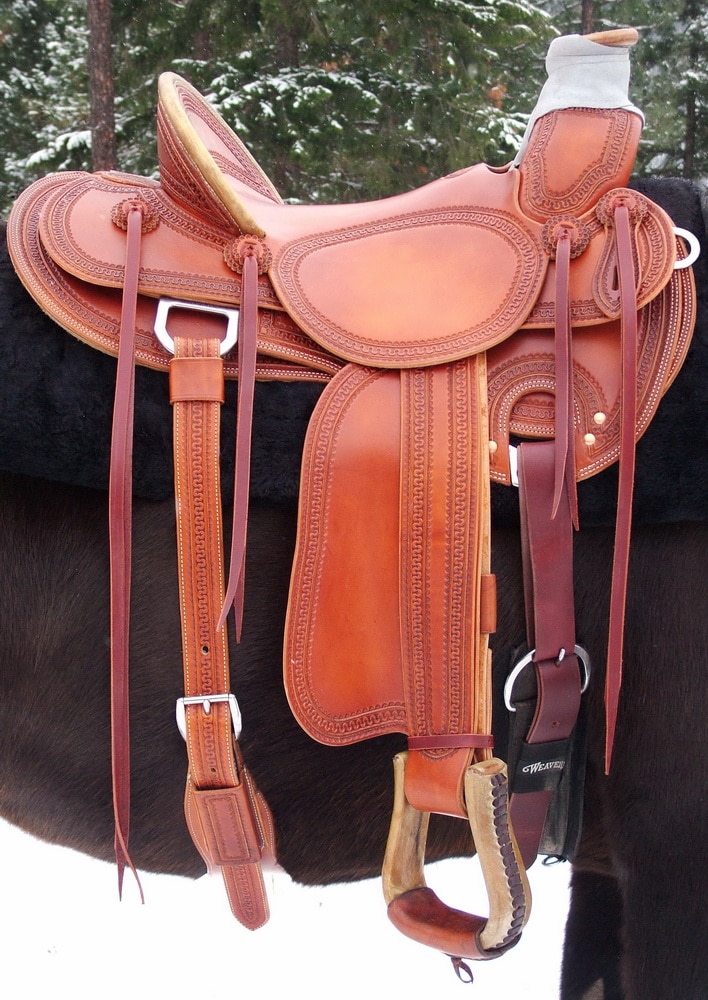 ~ Wood, rawhide, covered tree. Built by Sonny Felkins of Quality MFG ~
~ 3-B Visalia Fork ~
~ Serpentine border tooling ~
~ 8 strings with tooled rosettes ~
~ Old timey fenders ~
~ 3/4″ wool lined round skirts ~
~ Mule-hide horn wrap ~
~ Rawhide horn and cantle binding ~
~ 7/8 double flat-plate rigging & breast collar dees ~
~ Rawhide covered stirrups ~
~ Wood, rawhide, covered tree ~
~ Ellensburg Fork ~
~ Full geometric diamond stamping with floral tooling accent ~
~ 6 tooled rosettes with clip & Dee-rings ~
~ 3/4″ wool lined rounded square corned skirts ~
~ Cheyenne roll ~
~ Full double standard rigging & breast collar D-rings ~
~Matching stirrups ~