"God made some men big and others small, but Samuel Colt made them all equal." It was Sam Colt's pistol which made men equal. It was the holster maker, however, who allowed men the convenience of transporting this equality.
Our Holsters are custom-made for your gun, resulting in a perfect glove-like fit that you can't get from an off-the-shelf product. We create a right-handed or left-handed holster for any gun type, making accommodations for sights, laser grips, trigger guard, barrel length, picatinny rails and even mounted lights. For this reason, the gun must be left with us in the shop while your holster is being made. You have the choice of brown or black leather and limitless possibilities with regard to decorative tooling.
We do have a few holsters pre-made for a few of the more popular pistol models. To see what we have in stock for holsters visit out   ~ online store ~
The Pancake Holsters is a is a good all-around holster. It rides high and snug to the body, with about a 15* FBI cant which makes for a good concealment holster, but it also works well for carrying your side arm in the . The full length back guard keeps the sites and hammer from digging in, making it one of the most comfortable ways to carry. The double leather top helps prevent the from collapsing.This holster can be made as a strong side carry or SOB ( small-of-the -back ) carry.
All plain pancake holsters are $115.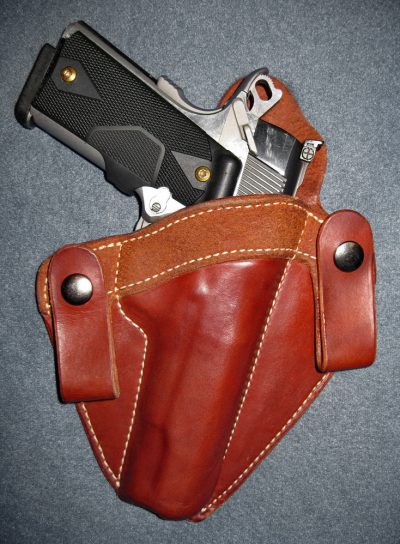 This holster is the most concealable way to carry.Your gun can be positioned anywhere around your waist using either the snapped belt loops or heavy-duty metal clip. A clip attachment is particularly useful for women who want to conceal a lighter-weight gun in a purse or they aren't wearing a belt.
All plain IWB holsters are $115.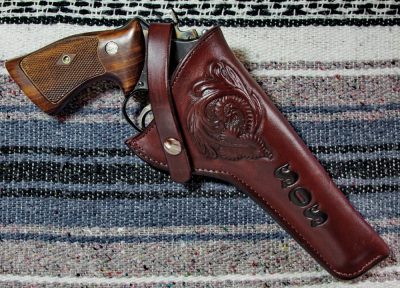 A field holster is a great way to carry in the field, particularly when you want to carry a larger revolver. This style holster can be made to fit any gun. This holster can be made as a strong side or cross draw carry.
Plain field holsters start at $120
A flap holster is like a field holster, but with a flap to protect the gun from the weather. Flap holsters can be made as a cross draw or as a strong side carry.
A plain flap holster is $150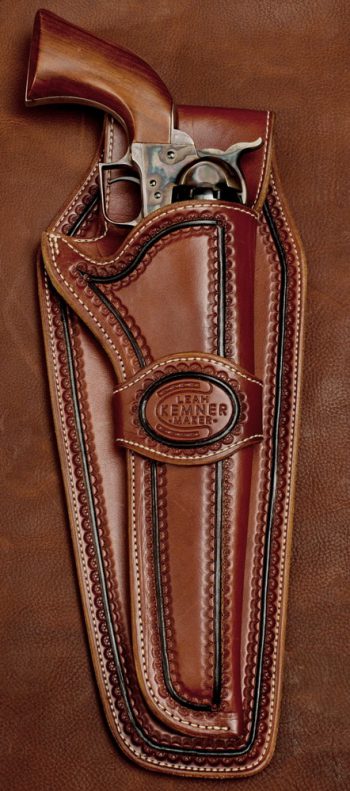 Cowboy holsters are limited only by your imagination; from plain to full-tooled. Here are some examples that we have made.
Cowboy holsters start at $150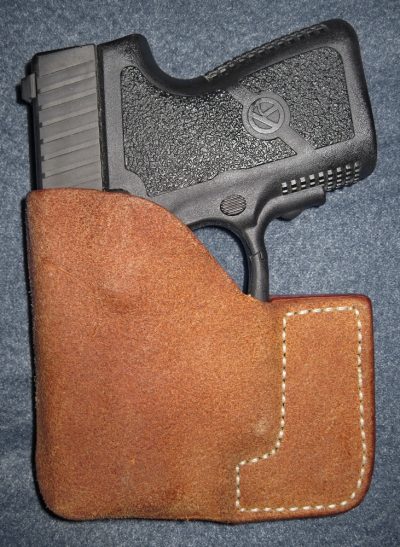 This simple rough-out pocket holster prevent the outline of your gun from imprinting, making for better concealment. Our design keeps the trigger covered, lessening of accidental discharge. The rough-out leather and extend flaps keep the holster in place when you draw your firearm.
All plain pocket holsters are $65
This rough-out pouch keeps the ammo in and the dirt out.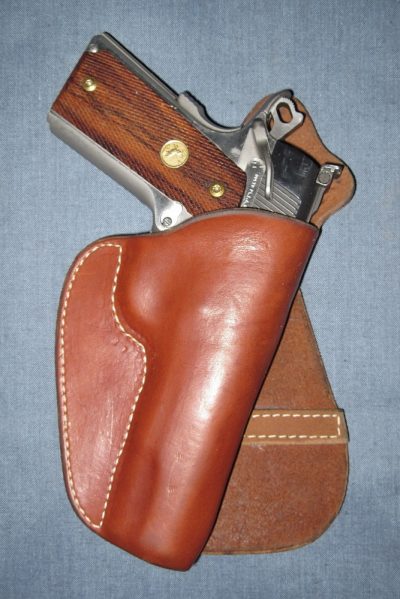 This style holster is very secure yet easy to remove and replace without removing your belt. the paddle holster can be made with a kydex or leather paddle.
A plain paddle holster is $115
A thigh holster is a great way to carry if you are wearing a back pack because it keeps the gun out of under the pack and easy to access.
Thigh holsters start at $160.